Tile Cleaning Products
You can scrub to your heart's content, but cleaning your tile is nothing more than learning what techniques and product you will need. We hope in this short article to reach most of you by offering what kind of tile you have and what is involved when caring for your tile whether you are cleaning counter tile, floors tile, or wall tile. Can you imagine cleaning a stain on your colored shirt with bleach? When cleaning those tough tile stains, the first step is to identify what you are cleaning; whether it is ceramic or porcelain tile or stone like marble or granite. Excluding grout, these are the three main areas to know when cleaning tile with products.
If you discover you have ceramic or porcelain tiles and the surface of the tile is glass like or shinny, you are virtually safe from most tile cleaners. On the other hand, if you are using any cleaner you wish and your ceramic or porcelain tile has a dull glaze (no shine), you must test a small area before starting to clean the entire tile. To be safe, always use a Ph neutral cleaner for tile. When testing an area, follow the instruction on the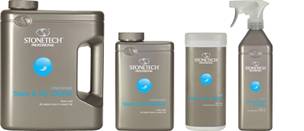 bottle and allow the area to dry completely and see if there are any reactions to the product you are using. You can speed the drying process up using a blow dryer. Ceramic and porcelain tiles are for the most part the easiest to clean. Usually these kinds of tile show very little soiling, unless they carry a textured surface, it's the grout that poses more of the soiling problems.

First, all stone is not the same and when we mention stone here, we are speaking only in generalities. Limestone, marble, and travertine tiles are cousins and should be cared for in the same manner. In the industry these types of tile are considered Calcium Carbonate, meaning they carry very high volumes of calcium and are very susceptible to acidic like products. For example, foods like wine, pickle juice, orange juice, and even some cleaners, can etch (damage) these kinds of tiles. The same would be true if you were using an acid cleaner on these tiles. The tile would begin to dull, losing its luster, and restoration could only be done by a professional company like Sasso Bello. So when cleaning these tiles, read the ingredients on the bottle, if there are any acids stay away from this product. Moreover, we can't stress it enough when first testing a small area on these kinds of tile before approaching the area as a whole.

The 15 most used granite tiles can be approached in the same manner when cleaning. But as always test an area first. As a suggestion not as a rule, the darker the granite the more dense the tile and harder it is for soil to penetrate its surface.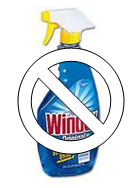 When cleaning granite first pour a few ounces of clean water on its surface and let it dwell for a few minutes. If after cleaning off the water, the tiles have darkened, your granite is porous. We have learned in the past from one client who after cleaning their shinny granite tile with Windex, had left the leaking bottle on the stone turning it blue. When cleaning granite use a Ph neutral cleaner. You will have less soiling problems for a long time to come.

The biggest danger that non-tile cleaners pose is how these kinds of product are harmful to materials nearby. Shower door finishes, faucet finishes and metal trim in fine bathrooms can be harmed by highly reactive cleaners; all the more reasons to use the correct tile cleaner in your home. Regular cleaning of tile can be done with a neutral cleaner and warm water -- using scouring powders or other abrasives can scratch, etch, and even mar a tiles finish. Please take into consideration that even tougher cleaning problems will need the use of a gentle mild cleaning products intended specifically for your kind of tile.

Cleaning your tile can be an easy chore as long as you are using the correct cleaning product. Whether you are cleaning ceramic or porcelain tile floors, cleaning marble wall tiles, cleaning a granite tile countertop in your kitchen, or cleaning shower tiles, we are here for all your needs. Your success is our success!