Sealing Tile
There are many types of tile available in the market. For discussions sake, we are focusing on man-made tile types, not stone tile in this article.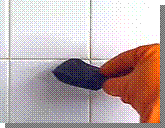 Sealing a glaze finish tile such as, ceramic, porcelain, or quarry tile, is not required. These tile are considered to be impervious and generally signifies zero absorption, except for floor and wall tile which are considered impervious up to 0.5 per cent water absorption. These tiles are so dense that even if we attempt to seal the tile, the sealer won't penetrate the glazed surface and warrant a useless attempt. Don't be confused there are ceramic or porcelain tile that are unglazed and may need sealing.
Unglazed tile does not contain the extra layer that makes tile impervious. These tiles are usually dull like and if they do carry a sheen finish usually these tiles have been treated with a sealer or wax application. Most common unglazed tiles are the red quarry tiles or the granite looking porcelain ceramic tiles used in heavy commercial areas like kitchen in restaurants. Other tiles such as Saltillo Tile – is a Mexican tile made of unprocessed clays and Terra cotta also a clay baked tile all considered sealable.
How to consider your tile sealable?
Most ceramic or porcelain tiles do not require sealing, but there are some ways to determine if you have a tile that needs sealing. Here are some questions to ask:
Does the tile have a high absorption coefficient?
Tile is rated on how fast it will absorb liquid called absorption coefficient. The higher the coefficient the more difficult it will be to seal the tile.
Place some droplets of water on the tile and time how long the water takes to disappear. If the water disappears in less than a minute this tile has a low coefficient and considered very porous. If the water sits on the tile for more than 15 minutes consider any loss of water do to evaporation.
Check the finish of the tile:
A glazed surface has a sheen to the tile and will be less absorbent.
The finish could be textured but this is not a determination of absorbency, it only refers to the tile roughness and how the tile can soil more than a smooth surfaced tile.
Is the tile vacuumed or mopped daily or weekly?
What chemicals are used in cleaning the tile?
Harsh chemicals make tile maintenance almost impossible to keep up.
The wrong cleaning chemicals will make future cleaning more difficult.
Is maintenance neglected?
If this is the case sealing the tile would make no difference.
It's important to realize that there are two parts of a tile floor, the tile and the grout. In almost all instances grout needs to be sealed. It's naturally porous and will stain easily. Many installers, because of liability, do not seal grout mostly because grout needs to cure for 72 hours before sealing. It means they have to come back to apply the sealer. New home builders are no exception; we have yet to find one who will seal tile and grout on new installation. In our opinion, the sealer is the most important step after installation, after all keeping your tile looking great a long time is the objective.
Sealing is done to strengthen tile or grout's defenses against dirt, spills, and possible erosions later.
It may not be a task you want to tackle yourself, but there is little question as to whether you should seal tile. Sealing adds minimal expense and offers extreme benefits to any tile project. When a sealer does its job — locking out damaging soils, keeping out water, and giving floors and walls a finished look — nobody pays much attention. It's only when a tile fails to be sealed, and a tile becomes stained, that people become concerned and address the problem.

You may have tile in many areas of your home, but the tile installed in your bathroom can be different from that on your kitchen countertop altogether; and how these two areas are cared for are very different. When sealing tile the type of sealer and the area it is in are a factor for us. We would like to be your tile sealing company. We have the sealing products, techniques, and experience to offer you and your family. Whether you need to seal tile floors or sealing tile walls, we are here for all your needs. We are your tile medic or tile doctor. Call us for an exam!